Solutions based on 1С:Payroll & HR
The configuration 1С:Payroll & HR Management is used to automate the processes of recruitment, the human resource management of an enterprise or holding company and calculation of payroll. It is successfully applied in the accounting department and HR function, and also in other subdivisions tasked with the organisation of the effective work of staff.

The configuration automates the following tasks:   

calculation of payroll;
calculation of the taxes and payroll deductions regulated by legislation;
reporting of the accrued payroll and taxes in the enterprise's costs;
management of cash settlements with the personnel, including deposits;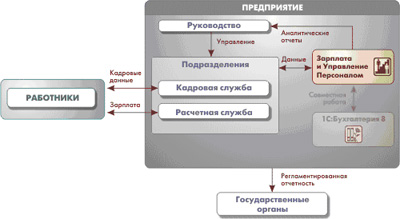 The system makes it possible to keep accounts in a unified database on behalf of several organisations (legal entities) that constitute a single enterprise from the perspective of the organisation of the actual business. The configuration ensures parallel management accounts and statutory accounting. Management accounts are kept for the enterprise as a whole, and statutory accounting separately for each organisation.

If this configuration is used at an enterprise, the submission of statutory reporting to the state authorities will become a far less labour-intensive process. This concerns in particular the data for the personified accounting of the Pension Fund (SZV-4, ADV-11) and reporting on personal income tax (2-NDFL).

All the employees of an enterprise benefit from the automation of personnel accounting, HR and payroll, using the configuration 1С:Payroll and HR Management:  

Management gains full control over developments, sets the enterprise structure and component organisations, analyses the personnel structure and takes management decisions based on full and reliable information. Powerful analytical reports provide the user with information in random breakdowns.
The HR function receives a valuable tool for automating routine tasks, including the compilation of questionnaires and preparation of reports on employees, using different selection and classification criteria.
The enterprise's employees gain assurance that they will be able at any time to rapidly receive the statements that they require, information on their vacation and personified accounting data with the Pension Fund, etc.

Contacts:

For more information on our IT-consulting services and services in implementation of information systems please contact:

Valeria Polyakova, FBK Consulting Partner
e-mail: PolyakovaV@fbk.ru

You are also welcome to leave your inquiry online

Tel.: +7 495 737-53-53


Back to the section